ACE Group provides the widest range of road marking machines for sale, from thermoplastic road painting machines, cold paint line marking machines, self-propelled pavement striping equipment and hand-push road marking equipment to thermoplastic paint pre-heater and road line removal machines. As one of Asia's leading road machinery manufacturers, we also offer second-hand automatic pavement painting facilities to customers throughout the world.
Road marking machine price ranges widely from $1,000 to $120,000, mainly depended on the types and configurations. It also needs to be kept in mind that the paint and even the fuel should be taken into account when you are estimating the total cost for striping your target roads.
Road Marking Machines For Sale
Road marking machines for sale in South Africa, Saudi Arabia, Australia, Sweden, UK, Kenya, Malaysia, Philippines, Qatar, Pakistan, UAE, Ethiopia, Bangladesh have been well accepted, no matter the road painting equipment comes from local manufacturers or transnational suppliers. Road line marking machines for sale in some cities like Chennai, Johannesburg, Nagpur, Durban, etc. are notably wanted. All these indicates that the demands for pavement striping machines throughout the world are still on the rise strongly. This is a good era for those owning such small devices due to the huge amount of work they can participate in. Compared with asphalt plants, road marking machines are smaller and their prices are correspondingly lower. They can be a good choice if you are attempting to enter the road construction industry and you are temporarily in shortage of money to buy other bigger equipment.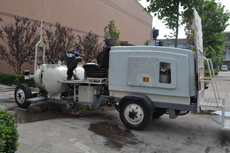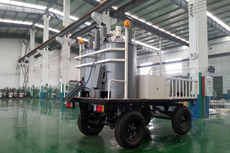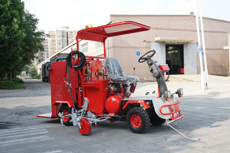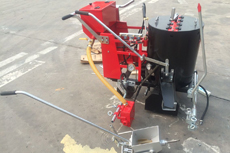 FAQs
1. What Types of Road Painting Machine Are There?
Categorization of pavement striping equipment is not one thing that can be articulated in one sentence. They can be divided into hand-push type, self-propelled type, driving type, etc. based on different driving modes. By the way, the hand-push road lineation machine has another visual name-walk behind the painting machine. All the paving striping machines could fall into thermoplastic pavement marking machines and cold paint pavement marking machines according to the applied marking materials. Two-component line marking machines, as a kind of high-end road marking facility, is becoming the most favorite ones. This new type of road striping machine can coat the road surface with paint film by the means of internal chemical cross-linking, other than physical drying which is broadly adopted on thermoplastic road marking machines and cold paint airless pavement marking equipment.
2. How To Choose A Road Line Marking Machine?
First, according to the type of road painting, determine whether you need a cold paint road striping machine, thermoplastic pavement painting equipment, or two-component road striping equipment.
Second, select the size of the pavement lining equipment according to the scale of the construction work. Driving-type and vehicle-mounted striping machines are generally used for long-distance continuous marking operations. The walk-behind self-propelled marking machine has high flexibility and is suitable for small-scale marking operations in urban areas and highways. The hand-push lineation machine is suitable for short-distance sidewalk and zebra crossing drawing construction.
3. How To Remove Road Marking Paint?
The answer is road line removal machine. Unlike the pavement striping equipment, which is designed to draw lines on the road surface, pavement painting removal machines equipped with a built-in cutter or grinder is used to remove the broken, stained, and wrong traffic paint. It is usually used in conjunction with road striping machines in road maintenance work. So in a broad sense, road line removal machines can be considered as one type of road line marking equipment.
4. What Type of Paint Is Used For Road Painting?
The commonly used road marking paints are mainly cold paint , thermoplastic paint, and two-component road marking paint.
The thermoplastic paint is a solid powder at room temperature. The paint is put into the melting kettle during construction, and the temperature is controlled between 180°C and 210°C. After being melted, it is put into the heat preservation hopper. And then the molten paint is introduced into the bucket for marking.
Cold paint can be directly applied for marking without heating. Dilute the marking paint directly, and draw lines with a brush, roller, or cold paint road painting machine. The color is clear and the process is relatively simple.
The pavement marking film of the two-component paint is firm, the internal structure is compact, and the service life is the longest. In areas with a lot of ice and snow, the damage to the line caused by snow shovels can be avoided.
5. How long Do Road Markings Last?
It is mainly related to the paint used, and the durability of each painting is different. Thermoplastic coatings use the thermoplasticity of synthetic resins to make the markings adhere firmly to the road surface. Generally, they can be used for about 2 years. The cold paint is composed of modified acrylic resin, pigments, fillers, additives, and other materials, and generally lasts 3-6 months.
6. What Are Glass Beads Used For?
The purpose of the glass beads in the pavement lineation paint is to increase the reflection effect at night and improve the safety of driving. The principle of reflection is that when the car lights are irradiated on the surface of the glass bead, the light is refracted into the glass bead. After reaching the bottom of the glass bead and contacting the coating, it is reflected back by the coating, enabling the driver to see the road ahead clearly at night without street lights.
Any of your inquiries will be answered within 24 hours.
[Form Enquiry not found!]
Depending on the applied coatings, road line marking machine (or road marking machine), can be divided into three categories, namely, thermoplastic road line marking machine, cold (or water-based) paint road line marking machine and two-component road line marking machine.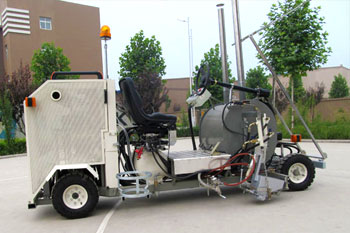 Thermoplastic
Road Line Marking Machine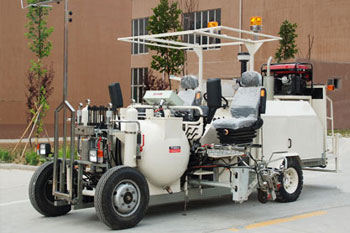 Cold Paint
Road Line Marking Machine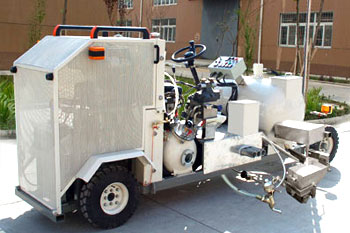 Two-component
Road Line Marking Machine
Thermoplastic road line marking is the most popular on the highway and urban road. Usually, in addition to the thermoplastic road line marking machine, we need to equipped with a thermoplastic paint pre-heater, pre-marker and primer sprayer in the construction of thermoplastic road line marking, in order to improve the efficiency.
ACE Group is the biggest road line marking equipment & paint manufacturer in Asia, we supply driving-type road line marking machine, self-propelled road line marking machine and hand-push road line marking machine, according to the different requirement of efficiency in the different road marking construction.
If you want to do road line marking on a long highway, city road or airport, the driving-type road line marking machine will be the best choice. If you want to do road line marking on a shorter city road or parking lot, you can choose the self-propelled road line marking machine and hand-push road line marking machine.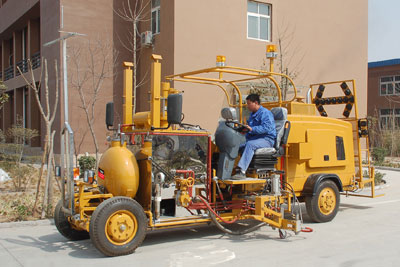 Driving-type
Road Line Marking Machine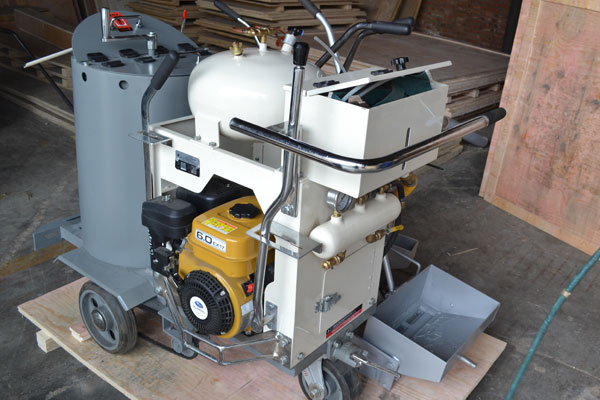 Self-propelled
Road Line Marking Machine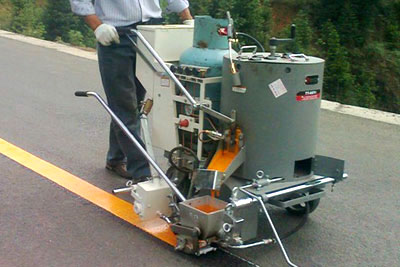 Hand-push
Road Line Marking Machine
ACE'sroad line marking remover can help you to remove the old or wrong road line markings quickly and cleanly. We also offer a variety of British Standard or American Standard road line marking paint (such as thermoplastic paint, cold paint, water-based paint and two-component paint) and reflective glass beads.
Enquiry Form
[Form Enquiry not found!]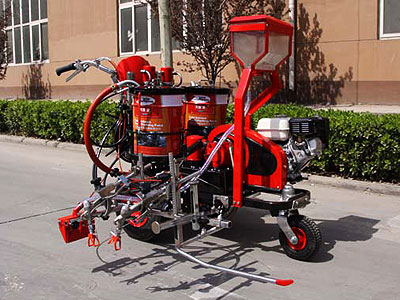 AC-HAL-II hand-push cold paint/two-component road marking machine mainly used for small-scale road line marking work such as zebra marking, lines in parking lots and athletic fields, special characters and arrow indications.
EMAIL: This email address is being protected from spambots. You need JavaScript enabled to view it.TEL: +86-371-55635088
Category: ACE Road Marking Machine > Road Marking Equipment > Cold Paint Road Marking Machine
Technical Data
| | |
| --- | --- |
| Model | AC-HAL-II |
| Engine | ROBIN 9.0HP gasoline engine |
| Air Compressor | 0.16m³/min (Spraying) |
| Marking Method | high pressure airless spraying type |
| Delivery Rate | 9L/min (single) |
| Max. Rated Working Pressure | 20Mpa |
| Pump and Control Method | auto-shuttle plunger pump |
| applied paint | Suitable for solvent-based paint, water-based paint and two-component cold plastic 1:1; |
| Marking Line Width | 50-500mm (adjustable); |
| Spray Gun (marking units) Number | Double fixed manual spray guns |
| Glass beads system | 6L gravity dispensing type, 10L pressure spraying type (optional) |
| Hardner Container | 5L (pressurized for 98:2 2-component cold plastic) |
| Dimension | 1750mm(L) x 1000mm(W) x 1250mm(H) |
| Weight | 240 KG |
| Optional system | Roll booster, warning light and lighting lamp |
Features
1. Equipped with alloy chassis, high-speed bearing and inflatable tyre, compact in structure which ensures flexible and convenient operation.
2. New auto-shuttle plunger pump with big flow and stable pressure ensures efficient and high-quality road line marking work.
3. Lockable wheel steering device ensures the marking machine work in straight line or change direction on curving road freely.
4. Marking width can be adjusted according to user's demand and the user can add a roll booster to make the machine be self-propelled.
5. The user can also ask for stainless steel spray system to use water-borne paint or microelectronics control system for automatic control.
6. Optional equipments: roll booster, warning light and light.
Enquiry Form
[Form Enquiry not found!]
A lot of people are familiar with road markings, such as zebra crossing. But, few people are familiar with road marking equipment and materials. So, if you have a lot of questions when you visit our website, please do not worry about that.
Here, we list the frequently asked questions and try our best to answer these questions. The frequently asked questions can be divided into two categories, the first category is about the road marking equipment & materials, the second category is about the international trade process.
You can quickly find the answers by searching. If you find nothing, you can submit your question to us by the following forms. We will give you the answer in 24 hours.
TOP 5 Products FAQs
TOP 5 Trade FAQs