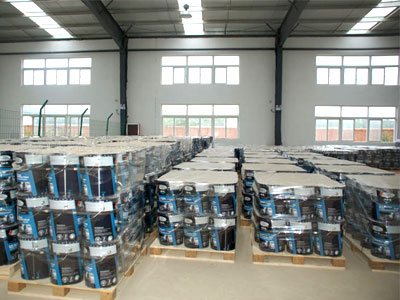 Two-component road marking paint is composed of base materials and hardener. During construction, just need to mix the base materials and hardener together with certain proportion. Due to chemical reaction, base materials and hardener quickly form hard paint film.
EMAIL: This email address is being protected from spambots. You need JavaScript enabled to view it.TEL: +86-371-55635088
Technical Data
| | |
| --- | --- |
| Binder/resin | 20.00 |
| Dispersing additive | 0.10 |
| Rheology additive | 0.10 |
| Pigment (TiO) | 10.00 |
| Fine filler (15 p:m) | 20.00 |
| Coarse filler (0.1 - 0.4 mm) | 25.00 |
| Premix beads | 25.00 |
Features
Use special screeding road marking machine or screed board to apply the lines. This paint has a thick coating. Compared with traditional thermoplastic paint, its advantages are as follow:
1. Good adhesion, hard coating, long service life even on busy traffic road.
2. Various construction methods, less requirement on construction equipment, easy construction.
3. Suitable for parking lines, pedestrian crossing, special lane and such kinds of city road markings.
Use special swing structure and structure road marking machine to finish construction work. Compared with traditional structure paint, this paint has following advantages:
1. Good cost performance. Its total cost is lower than that of thermoplastic marking.
2. Good adhesion of glass beads, excellent visibility in rainy day and at night.
3. Good rain dredge ability.
4. Hard paint film, good internal structure, non-deformation effected by temperature. And the swing structure marking can avoid damage to the marking caused by snow shovel.
Enquiry Form
[Form Enquiry not found!]