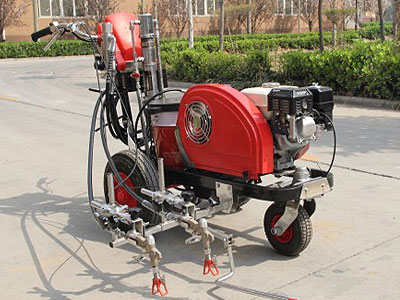 AC-HAL hand-push cold paint airless road marking machine mainly used for small-scale road line marking work such as zebra marking, lines in parking lots and athletic fields, special characters and arrow indications.
EMAIL: This email address is being protected from spambots. You need JavaScript enabled to view it.TEL: +86-371-55635088
Category: ACE Road Marking Machine > Road Marking Equipment > Cold Paint Road Marking Machine
Technical Data
| | |
| --- | --- |
| Model | AC-HAL-I |
| Engine | Robin 6.0HP Gasoline engine |
| Marking Method | high pressure airless spraying type |
| Paint pump | auto-shuttle plunger pump;Flow rate: 9.0L/min; |
| applied paint | Cold-solvent paint and water-based paint |
| Spraying width | 50-450mm (adjustable); |
| Spray Gun | Double manual spray guns |
| Glass beads system | without, 6L gravity dispensing type, 10L pressure spraying type (optional) |
| Dimension(L*W*H) | 1750×1000×1250mm |
| Weight | 160 KG |
| Optional system | Roll booster, warning light and lighting lamp |
Features
1. Equipped with alloy chassis, high-speed bearing and inflatable tyre, compact in structure which ensures flexible and convenient operation.
2. New high-pressure airless diaphragm pump with big flow and stable pressure ensures efficient and high-quality road line marking work.
3. Lockable wheel steering device ensures the marking machine work in straight line or change direction on curving road freely.
4. Marking width can be adjusted according to user's demand and the user can add a roll booster to make the machine be self-propelled.
5. The user can also ask for stainless steel spray system to use water-borne paint or microelectronics control system for automatic control.
6. Optional equipments: roll booster, warning light and light.
Enquiry Form
[Form Enquiry not found!]