Have you been confused with categories and quotations of road marking machine? Are you still puzzled with choosing road striper, with so many tips on how to choose road marking machine? Now this article will tell you marking machine totally form the basic components quality!
Quality determine efficiency, components contribute machine! When choose road marking machine, you should know some details deeper ----ACE High Quality Marking Machine Components
Engine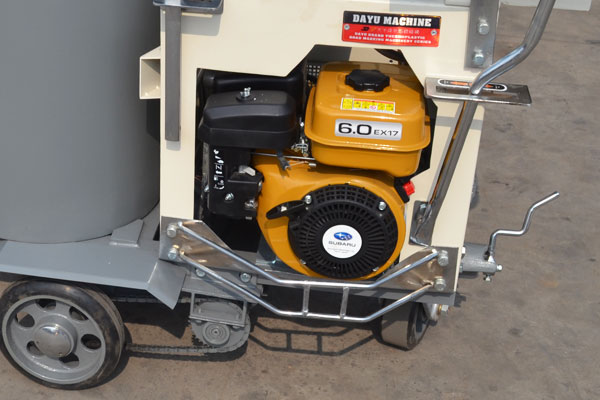 For big driving type road marking machine, water-cooled electrical starting diesel engine with four-cylinder or five-cylinder in-line that is environmental protection and with low noise. A brand like Weichai, Honda, Kohler or Kubota for your choice. For self-propelled thermoplastic machine, the Japanese Robin6.0HP or Honda 5.5HP four-stroke air-cooled gasoline engine was equipped. The diesel engine is environmental protection with low noise.
Heating mode
Advanced infrared gas heater or injecting diesel heater, electronic ignition, automatic temperature control and conduction oil heating that can save more than 50% fuel compared with traditional heating mode.
Driving system
Imported oil pressurized continuously variable speed transmission system (HTS) with an automatic brake device that can freely go ahead, back off and stop. The left and right back wheels are equipped with a differential speed gearing to ensure it to drive freely around the curve and change directions timely. Driving speed: 0-22km/h, maximum climbing capacity: 15°.
Marking system
Marking shoe
:
Hydraulic screeding marking shoe; structure board is made of imported special steel sheet, which is high-temperature resistant (2000 centigrade degree), oxidation resistant and deformation-resistant, and stamped with better stability. The plinth is the pneumatic screeding structure that is made of special alloy steel. Floor knife that contacts with the ground directly adopts imported hard tungsten steel knife-head. The last and most important is a good sensibility, abrasion resistance and firmness to ensure the marking has more regular raised shape, evener and straight bottom line edge, and perfect head.

Spraying gun:
Single or double equipped with atomized air-auxiliary spray gun with low pressure. The atomized gas's heating oil recycle pump and heat exchanger in this system is able to improve the spray effect. Airless spraying type machine was equipped with single or double high-pressure airless pumps with big flow and stable pressure according to machine model. Spray guns are with hard side columnar reverse washed nozzle which is easy and convenient for discharging plugging. Some model equipped with three spray guns.


Glass beads spraying system
Glass beads bin is designed pressurized and with visible window to monitor glass beads uninterruptedly spray. The glass beads spraying gun (or reflective beads dispenser), can freely adjust pressure, flow rate and spray width and ensure the reflective glass beads evener and more economical spraying, and firmly stick to the paint coating.
Electronic control system
Multi-functional interface; It can be set with various marking types when out of the factory according to the requirements of the users. The line type and its length can be freely adjusted to meet the users needs during construction, realizing full intelligent control. Continuous line and a broken line can be finished together in the same program.
Paint tank
 The paint tank is cold rolled, anti-oxidant, steel conduction oil insulated heating, with a horizontal hydraulic stirring device inside it. The heating temperature can be automatically controlled according to the applied paint types. The inside wall of the tank can be unloaded when cleaning. The emergency valve at the discharging hole closes automatically when the pressure in the tank falls.
Air compressor
  Two-diameter piston-type compressor of the different outlet was equipped according to the necessity of marking machine. The air storage tank can adjust the pressure and is installed with a safe automatic exhaust device.
Warning system
 Equipped with warning lights, whose flicker frequency (sudden flicker frequency) can be freely adjusted. For driving type road striper, the equipped electronic warning arrow at the back of the vehicle, the flashing direction is adjustable to improve the safety of road marking construction.
Guide rod
 The extractable hydraulic guide rod can change directions freely to up, down, left or right, precisely controlled.
Pre-marking system
Pre-marking system equipped for striping car is able to finish the guiding line painting work meanwhile marking pavement line, which greatly improves the efficiency of the traffic lines construction.