AC-SSTC-I/II self-propelled two-component paint road marking machine is mainly used for small scale road marking and zebra marking, with good proformance and long service life. The screeding type can make the marking line straight and beautiful. The glass beads system make the galss beads uniform and saved.
EMAIL: This email address is being protected from spambots. You need JavaScript enabled to view it.TEL: +86-371-55635088
Category: ACE Road Marking Machine > Road Marking Equipment > Two Component Road Marking Machine
Technical Data
Model
AC-SSTC-I
AC-SSTC-II
Engine
Kohler or Robin 6.0 HP gasoline engine
Driving system
Original imported oil pressurized variable speed transmission system
Paint tank capacity
44 L
40 L
Glass beads bin
12 L
14 L
Hardener tank capacity
16 L
11 L
Marking shoe
Manually structural type, standard configuration 150 mm, 200 mm,450mm
Marking width
100 mm, 200 mm, 250 mm, 300 mm, 450 mm (optional)
Dimensions (L*W*H)
1300 mm × 950 mm × 1250 mm
1450 mm × 1300 mm × 1300 mm
Weight
162 kg (450 mm marking shoe)
240 kg (150 mm marking shoe)
Features
The devices of alloy chassis, high-speed bearing and corrosion-resistant rubber tyres with compact structure ensure the operation more flexible and durable.
Advanced hydraulically powered variable speed transmission control system adjusts and controls speed accurately, and realizes self-walking function.
The welded marking shoe made of wear resistant special steel owns the best stability, and ensures the marking line more regular and line thickness evener.
Its automatic stirring system can ensure the two components be mixed sufficiently, improving performance of paint greatly and prolonging lifetime of marking line.
The width of marking line can be adjusted to other sizes according to customers' specific requirement.
The automatic quantitative glass beads dispenser that is synchronous with the paint structural system ensures the dispensing evener,more exact economical.
The directional device that can lock rear wheel ensures the marking machine walk along straight lines and turn freely on curved roads.
Pictures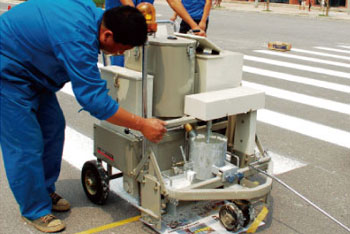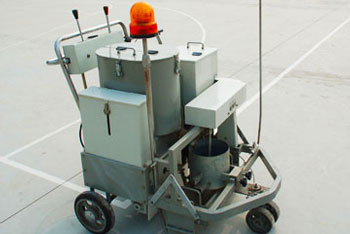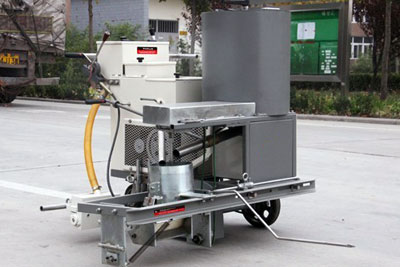 Enquiry Form
[Form Enquiry not found!]