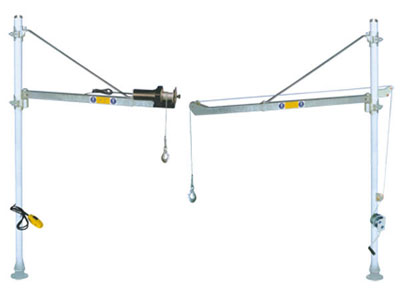 AC-LU-I/II Loader and Unloader are specially designed to load and unload the road marking equipment, such as self-propelled, hand-push road marking machines and single cylinder preheater, etc. Generally, the weight of these equipment are about 100 kg - 1000 kg. Type I is driven by human, type II is driven by electricity.
EMAIL: This email address is being protected from spambots. You need JavaScript enabled to view it.TEL: +86-371-55635088
Technical Data
Model
AC-LU-I
AC-LU-II
Rated lifting capacity
1100 kg
650 kg
Cable length
7.6 m
7.6 m
Gear
10:5:1
/
Rated voltage
/
12 V (24V)
Installing mode
Fastened on the front side of the truck with bolts
Operating mode
To turn the beam outward and fastenit, then turn the crank manually
To turn the beam outward and then operating the controller (up or down)
Net weight
35 kg
55 kg
Features
Scientifically designed completely avoied equipment damage and personal safety problem when manual loading and unloading.
CE, GS, EMC certificated in Europe, and UL, CUL certificated in the United States and Canada.
Easy to be installed and have perfect and stable performance, light and small in size.
Only needs one or two workers to finish the frequent heavy loading and unloading work, saving time and human power.
Enquiry Form
[Form Enquiry not found!]